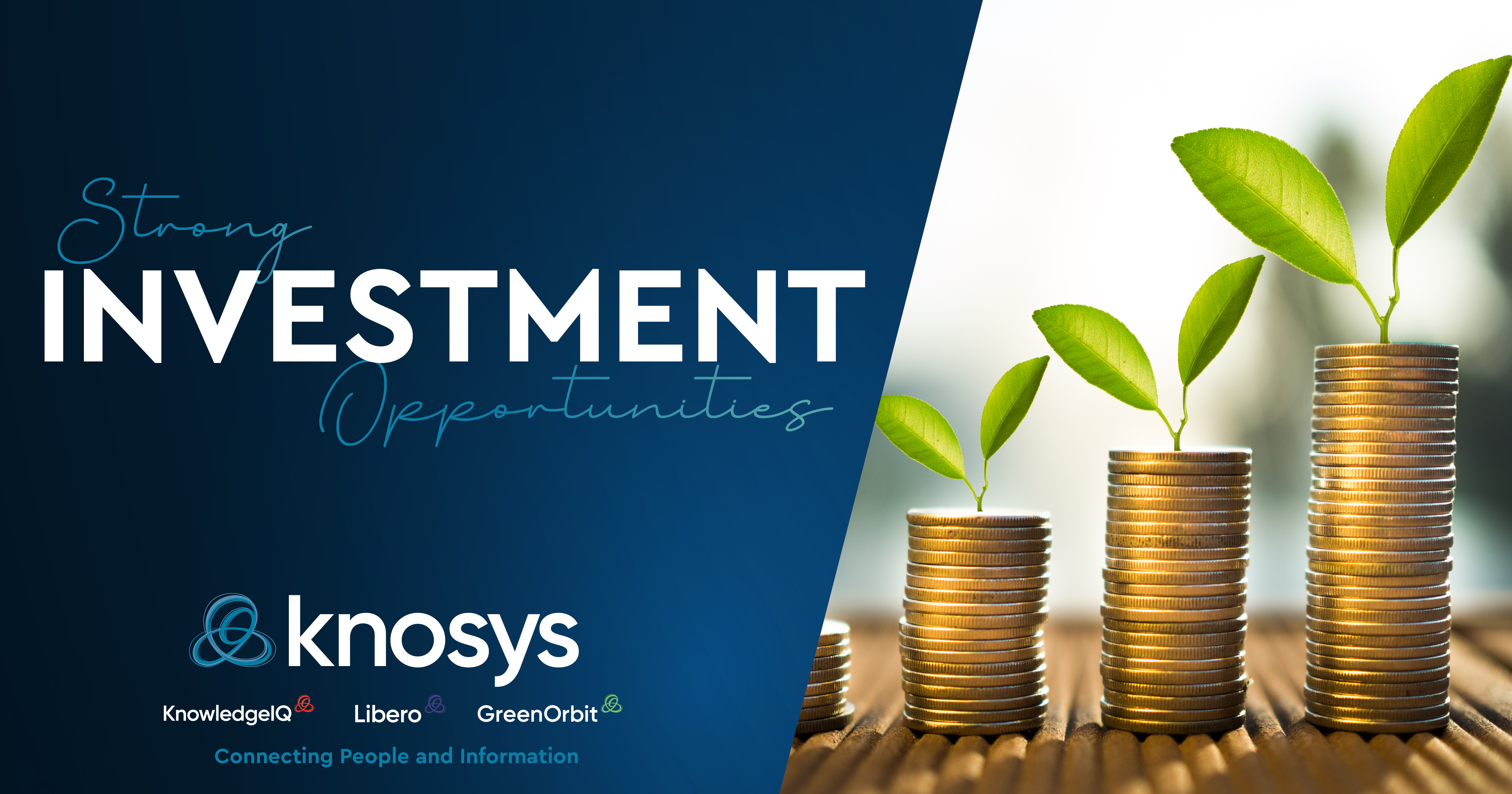 From humble beginnings in late 2015, Knosys is now a global pioneer in the supply of SaaS information software and services focused on employee connection, productivity and customer engagement. Knosys' mission is to empower organisations to make smart connections with their information. 
In an increasingly disconnected workplace where the future is hybrid working, businesses need solutions to facilitate centralized information gathering. 
Below are five great reasons why investing in Knosys is a wise decision 
A suite of 'in demand' SAAS Products 
KnowledgeIQ

– Intuitive knowledge management platform supporting your call centre teams and customers. Trusted single source of truth.

 

GreenOrbit

– Employee experience platform with everything your employee needs built in.  Empowering digital workplaces with the best tools to communicate, collaborate and engage 

 

Libero

– A powerful cloud based library management system to manage all your resources

 
Quality customers with increasing revenues
Well-known brands such as ANZ, Singtel, Harvey Norman and Cotton On

 

Total operating revenue increased by 46% to $4.6m in FY 2021

 

License and support fee revenues increased by 28% to $3.8m in FY2021

 

Immediate specific focus on existing customer base, aiming for 20% of ARR growth

 

Continued success attracting new customers e.g. February 2022 – Service South Australia and Service Tasmania selected KnowledgeIQ to improve customer experience (CX) and contact centre agent efficiency.

 
Clear and defined business model and growth strategy
Grow revenue from existing customers – upselling and cross selling 

 

Grow new customer revenues – invest in sales and marketing 

 

Grow brand awareness – attract new customers and top talent

 

Expand solutions – build out our innovative proprietary technology

 

Accelerate growth through acquisitions – open to acquiring compatible companies

 
A multi-talented global team 
60 employees based in 10 countries, a third of employees are focused on research and development 
Potential market 
Knosys has now has gained leading positions in the employee experience platform, library service platform and knowledge management arenas. With a total addressable market in excess of US$29bn, Knosys has a huge opportunity on which to capitalise.  
We think you'll agree some quite compelling reasons. To find out more about investing in Knosys please contact us via this form
Knosys Limited is an ASX listed public company limited by shares. Its registered office and principal place of business is in Melbourne, Victoria, Australia